From a vertical challenge to rocky and winding trails, dense and lush vegetation to tranquil river and waterfall oases, exploring the enduring forests of the Caribbean remains an incredible connecting doorway to the interior green worlds of this region. Some such treks are for the fit, agile and those with stamina, other such outings are shorter and easier on the endurance – but all provide that same magical ingredient in the encounter with terrain and extraordinary vegetation that makes it a distinctly exhilarating encounter from any visit. From Puerto Rico down to Grenada, here are four different but vibrant times we experienced in the Caribbean forest preserves:
Puerto Rico – El Yunque National Forest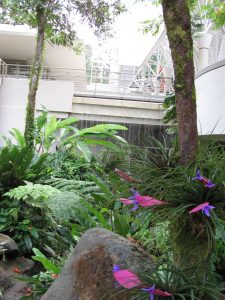 The eastern region of Puerto Rico is home to El Yunque National Forest – and a natural treasure of which Puerto Riquenos are justifiably proud.  Also part of the Caribbean National Forest, El Yunque's impressive eco-diversity translates to some 240 species of tropical trees, exotic flowers and wildlife. During a trip to this vast preserve, travelers can enjoy a hike amongst the flora and fauna on El Yunque's numerous trails, but given its size it may be an advantage to go in with a knolwedgeable guide as we did.  Even if you arrive here alone, you can still consider one of the ranger tours available at various points inside the forest.
There are different levels of challenge here – all the way from soft and basic to extreme.  The first point of interest encountered once entering El Yunque by car will probably be just to pause at the base of the  spectacular Coca Falls.  Due to the wide range of elevation of these Luquillo Mountains, El Yunque is comprised of some four distinct climate and biological zones, and what you encounter by way of flora and fauna varies at each ascending zone.  You will probably stop off at the main center just ahead of the park's entry, the El Portal Rain Forest Center. This sleek collection of open-sided buildings is beautifully integrated into the surrounding landscape and has permanent exhibits on the area's life both plant and animal.  Again, it is also one of the starting points for the many guided tours available. El Yunque nowadays is just about 50 minutes by taking one main highway (route 66) from the capital and then local roads, but with the highway's extension in the year ahead it will become even closer driving time from the city. Still, it remains forever a true world apart – some 240 different tree species and over 60 types of birds, the most vivid of which may be the Puerto Rican parrot. Along with that is the separate climate it enjoys – bring along a poncho and cap if you're going to be hiking for long, because a short burst of rain is likely during some of that time you may be still trekking.
Our own journey was a short one due to time limitations – but you can see so much in even a short exploration here. Going as far as the second zone level at Palo Colorado, we saw a splendid array of well-maintained trails, small rivers, and a little reservoir pond originally built by the U.S. Army Corps of Engineers. El Yunque with its diversity of eco-systems remains a draw for anyone coming back to Puerto Rico – explore again at another level you haven't seen yet, and you will come away with a new experience.
Getting there:  El Yunque was still some 50 minutes by taking one main highway (Route 66) from the capital and then local roads when we visited, but the 66 has since been extended – so your own journey from the city may be even shorter.
St. Lucia – Forestiere Nature Trail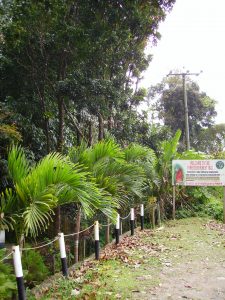 A sign greets you on arrival with the words "Remember; take nothing but photographs, leave nothing but footprints, kill nothing but time". The Forestiere Nature Trail is an easy but very engaging hike within a dense preserve in the rural community of Forestiere. You descend from a roadside stop into the canopy of a pristine rain forest with well-defined paths that lead past abundant large growth including large fig trees, epiphytes and a variety of ferns.
The trail itself is part of the Old French Road and continues for some three miles, beginning within the preserve along a gradual slope through dense foliage winding among the L'Encens trees (Protuim attenatum) that produce a white sap with a highly pungent smell.
Expect a vivid variety of plant life – St. Lucian reserves are home to some 188 species of fern, and more than a few of these along your trek on the Forestiere trails. Along with the many tall and small types of fern present, you encounter a dense profusion of old growth soaring high and wide enough to create an overhead canopy which the sun often only filters through in narrow streams of light. Occasional small signs posted next to the most significant plant life along your way usually include the plant name in island creole – say it aloud, and you may understand the French meaning too.
Getting there: Just about twenty minutes' drive from the seaside capital of Castries, serene Forestiere is a world apart in its pristine and well-maintained verdant enclosure.
St. Vincent – Vermont Nature Trail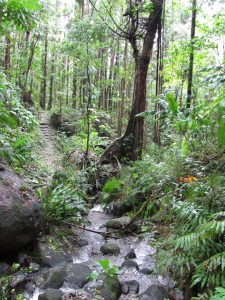 This moderately challenging trail in southern St. Vincent can work well for the hiker or the nature watcher.  The Vermont Nature Trail winds through the mountain of Grand Bonhomme, starting near the summit of the Buccament Valley and then passes through often dense rain forest.  Along the way, there is a chance of seeing (or hearing) the St. Vincent Parrot and the Whistling Warbler, both unique to St. Vincent and strictly protected nationally and internationally.  This is also the habitat of some 35 resident bird species such as the Black Hawk, Cocoa Thrush, the Crested Hummingbird, Redcapped Green Tanager, Green Heron.
In addition to the variety of birds, you may also glimpse the occasional iguana and armadillo closer to ground level.  By following the Parrot Lookout Trail that ascends some 500 feet, you can make your way through the lush rainforest, also the preserve for hummingbirds, black hawks, and green herons.  Be prepared for a forest trek that may last around two hours – and for restful stops, look out for the designated areas where you can pause for picnics.
Getting there:  Look for the trail about 15 minutes north of Kingstown along the Leeward Highway, where a sign indicates the Vermont Nature Trails at 3.5 miles inland.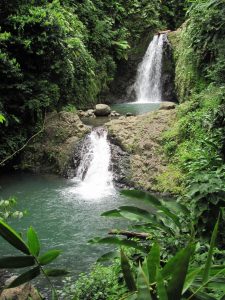 Grenada – Grand Étang Forest Reserve
Grenada is an island born of volcanic activity, but for the most part, its rolling hills and terrain are easy to travel across by car.  As you drive further into the interior along the Grand Étang Road, rain clouds often lurk overhead. Its central region of parks is rugged, dissected by streams and plunging valleys, all covered for the most part by heavy low-hanging forest.  This is the main route to the island's trails and parks, including Grand Étang National Park and natural highlights such as Annandale Falls or Concord Falls.  The right guide and the right gear make this more accessible and enjoyable.  Use hiking footwear that works best on wet, sometimes slippery, and often rocky surfaces, and dress in an upper body cover that's very breathable material.
We visited the reserve and did about a two hour walk across varying terrain – at times just flat but others very rocky.  Our guide on this occasion, Telfor Bedeau, was a seventy-something year young, inexhaustible source of information and enthusiasm on this particular trek we took into the reserve leading to the Seven Sisters Waterfall – a natural wonder that Telfor came across himself as a very young man.  Being escorted by a guide with a long relationship to the reserve and its trails can make for an even more memorable experience.  So we were more than fortunate to be taken on this one-on-one hike that wound through the depths of the Grand Étang to arrive at Seven Sisters Waterfall.
We walked a route that Telfor knew first-hand from years of bringing travelers along, a connection that allowed him to point out the variety and change of the surrounding flora and fauna over time.  You pass by the edges of dense inner valleys where Hurricane Ivan destroyed or damaged some of the larger growth in 2004 and is still slowly growing back to its former density or height.  Over the course of almost two hours, with pauses along the way to observe and learn from your guide, you continue along a trail that is sometimes wide and fairly flat at first but gradually narrows, eventually angling more steeply up or downhill and becoming covered by larger rocks and boulders and at points crossing streams and shallow river beds.  Reaching the site of the Seven Sisters Waterfall, you are confronted by a breathtaking vast enclave of surrounding boulders and cliffs, and dense green growth from which the double level of cascading waterfall descends.  It is time to pause, drink in with mind and eyes, and take away one of the most memorable walks to be enjoyed in the Caribbean.
Getting there: by car into the main interior road between Grenville and St. George's.  There is a Grand Étang Forest Center at your arrival point and a forest ranger who can provide information.