Amsterdam is the beautiful capital city of the Netherlands. It is a city steeped deep in 17th-century history through its buildings, streets, and canal ways. It is home to windmills or windmolen as they say in Dutch – the language of Holland. There were once 10,000 working windmills in this region which have withered down to a mere 1000. They were once used to produce flour, mustard, and oil and are an inherent part of Dutch culture and history. Nowadays, there are only a few working windmills in Amsterdam, still, tourists flock to see these great vertical wind-powered mills. Venturing through Amsterdam's countryside, you can view some of the finest that remain standing.
 De Riekermolen Windmill
Located just outside Amstelpark and alongside the Amstel River, this windmill dates back to the 17th century when it was used to pump flood water from the land as a drainage mill. Unfortunately, it is no longer in use, and there is a caretaker family that occupies the living quarters so there is no access allowed to the public. It is still worth seeing as the photo doesn't do justice to the enormity of it.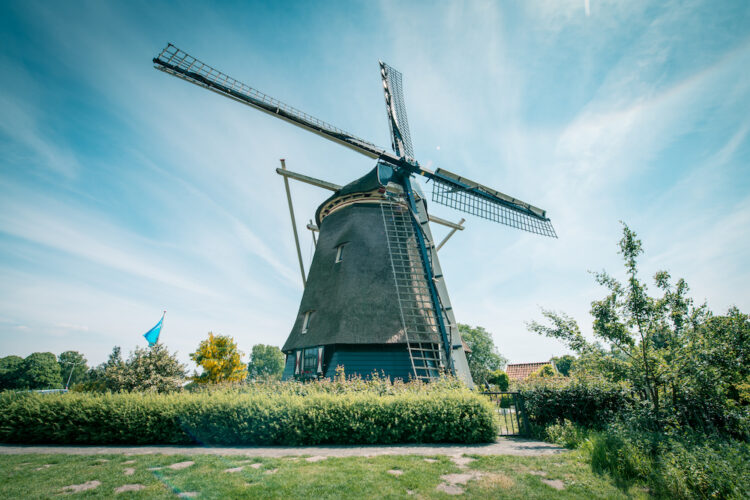 Molen van Sloten (The Rembrandt Sloten Windmill)
This is a must-see windmill as it is open to the public from 10am to 4pm. Guided tours cost about six Euro's and are led by well-informed volunteers and take about 30-minutes. There is short presentation called 'Rembrandt in the attic' to look forward to once inside. Be warned, there are a number of floors, and the steps are pretty steep in places, but there is a lift to the first platform for those with walking difficulties. The Molen van Sloten windmill dates back to 1847 and is an octagonal tower mill used for drainage as it is located alongside the Ringvaart canal. Visitors can peruse souvenirs and gifts in the small shop, and a museum on the same compound called the "Coopery Museum" (Kuiperijmuseum). It showcases the history of wooden barrels. Do look for the statue of Rembrandt on the grounds when you visit this windmill.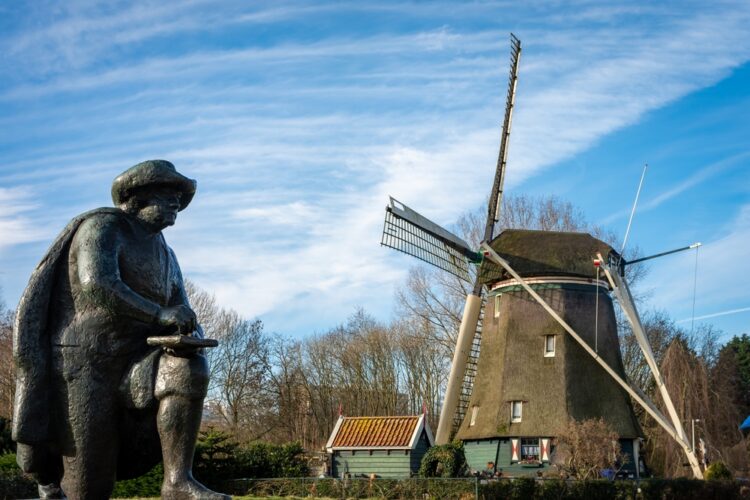 De Otter
One of Amsterdam's oldest windmills, De Otter was built in 1631. Used as a wood-sawing mill, it helped in the construction of 17th century tall ships. Although it no longer works, it is worth a look.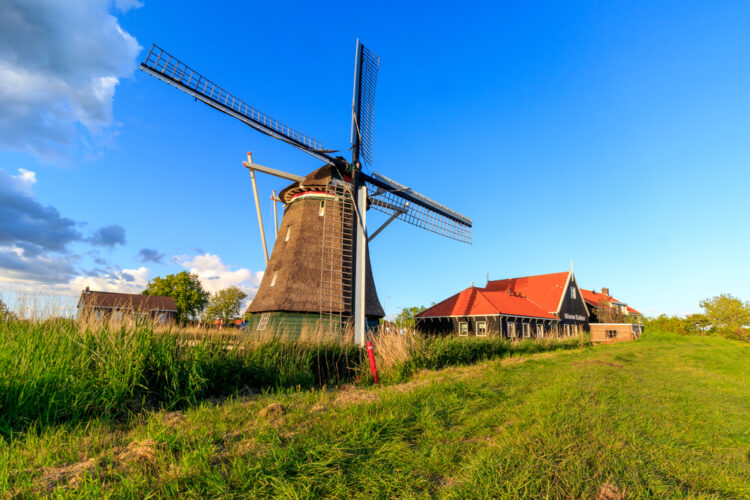 Molen de Bloem (Flour Mill)
This is octagonal smock windmill began life in the neighboring city of Jordaan until it was moved to Amsterdam in 1768 where it was used as a flour mill. Though the mill's blades still turn, it is no longer in service as a company office occupies it.
 De Gooyer (The Funenmolen)
Built in 1725, it is Amsterdam's tallest wooden windmill and a national monument. Unlike other windmills set in green lush places, this one is located on the outskirts of Central Amsterdam near the city so you can catch a tram there. It is built on a stone building which is currently a small brewery called 'Brouwerij 't IJ' (The IJ Brewery). The windmill crowns the top of the brewery and is adds quite a stark element to the skyline. Once used as a flour mill, the blades of the windmill are left to turn freely in the wind as it no longer grinds anything. Public access is not permitted as it has been turned into a private residence, but it definitely worth a look. So if you happen to be near Funenkade, you can check this out.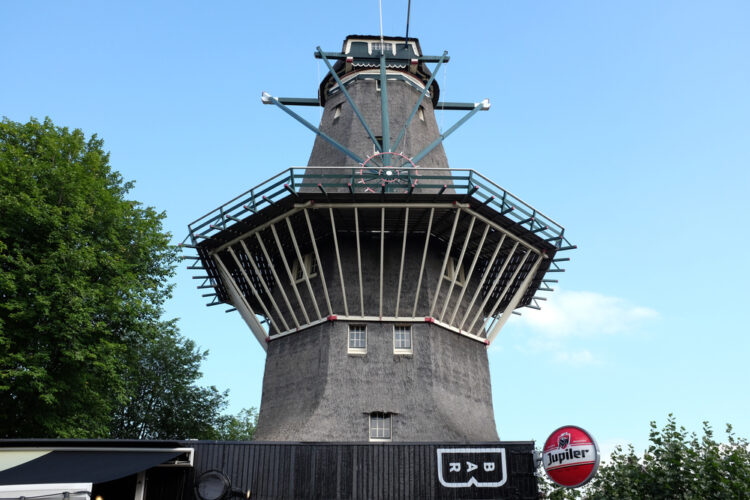 D'Admiraal (The Admiral)
This windmill is open to the public only at specific times during the year. It is located in Buiksloot next to the Noordhollandsch Canal and is the only remaining chalk and trass (volcanic stone) windmill in the Netherlands. Built in 1792, it was initially used to make mortar and later used to make putty. D'Admiraal is named after 16th-century Dutch descendants.  
 No matter where you go in Amsterdam, windmills are still a part of the skyline. These icons of Holland are majestic in size and beautiful, as they harness the wind's energy. Take the extraordinary opportunity to see these giants in action as their long vertical blades turn peacefully in the wind.